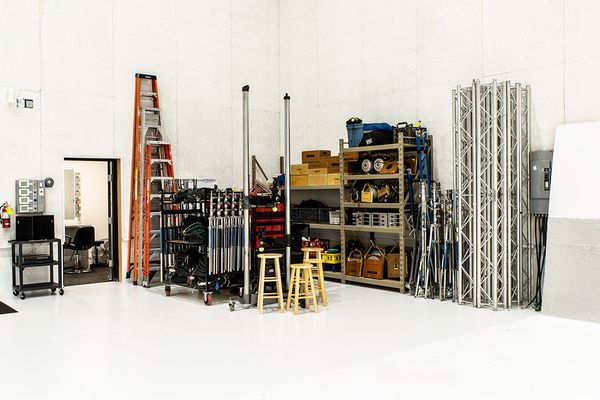 Rates
VIDEO / MOTION / MUSIC RATE / LARGE CREW RATE - $1200.00 / 7AM to 7 PM, 12 hour day
STILL PHOTOGRAPHY RATE - $800.00 / 8 AM to 6 PM, 10 hour day. (Shoots over 15 crew/clients will be billed at video rate)
OVERTIME RATE - $100.00 / hour - before 7AM or after 7PM
WEEKEND RATE: - $100.00 managers fee / hour
PAINT THE WHITE FLOOR RATE - $100 starting fee
SCISSORS LIFT RENTAL $125.00 / day
FORK LIFT RENTAL $125.00 / day
GRIP PACKAGES NOW AVAILABLE ON SITE THROUGH OUR PARTNER CINEQUIPT/ RED STAR PICTURES. Or call Cinequipt and tell them Studio 1414 sent you! We will only accept outside vendor gear in the studio on a pre-arranged case-by-case basis.
VIDEO LIGHTING/GRIP RENTAL:
Lighting/Electrical package: $700.00/day
Grip package: $500.00
PHOTOGRAPHY GRIP INCLUDED:
Please reserve at time of booking.
1- 10' Mono stand, 2- Short C-stands, 2- Tall C-stands
1- Bogen Super Boom, 4- Sandbags
4- Apple Boxes, 2-B/W V Flats, 4- Stingers, 3- Rolling Shelving Racks
8- 6' Folding Tables, 40- Folding Chairs, 2- Wardrobe Racks
1- Steamer and Iron, Large Work tables and Client Area, Blue Tooth stereo system